This is a Sponsored post written by me on behalf of Walmart. All opinions are 100% mine.
Angel Soft® has a new On-the-Go facial tissue soft pack that is perfect for moms on the go. The new packs are a convenient size to fit in a purse or diaper bag, and they also hold 7 times more facial tissues than the average competitor's pack. I don't know about you, but with 3 kids, I feel like I go through the little packs so fast. And the bigger travel boxes of facial tissues are so bulky that it is hard to find a place for them in the car (not to mention they don't fit in my purse). I love that each pack holds more in a convenient size so I won't run out while on-the-go.
I was able to place a pack on the side of my car door, without taking up a ton of space and since they are resealable, I know they will stay fresh until I need them. Tissues in a car are such a necessity for accidental spills, allergies, or just freshening up while on the go.
The package is also water resistant and crush resistant to keep them clean and safe while in purses, back packs or gym bags. My son took swim lessons over the summer and these would have been perfect to take in his bag! The other packs were ruined once they got wet, so he was unable to have tissues with him in the locker room.
The packaging is also cute, so I don't mind carrying them in my purse or back pack. I'm heading back to graduate school in a few weeks and was pleasantly surprised that the packs fit in my back pack with my computer and books, without taking a ton of space. I want to have some tissues on hand to keep my phone, computer and glasses clean throughout the day. And when allergy season hits, I'll have plenty of tissues with me.
Angel Soft® On-the-Go facial tissues come in packs of 4 so you can keep them in various places and be ready for anything. You can find them at Walmart and right now there is a $.50 coupon to help you save (click the link to visit Walmart and click on the coupon button).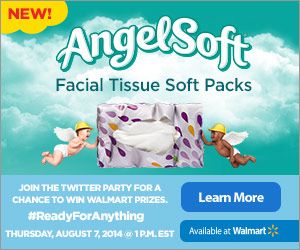 ************************************************
Like these deals? Don't forget to sign up for the Saving Cents with Sense Newsletter to find deals, coupons, and money saving tips in your mailbox each day. You can also follow on Facebook, Twitter, Google+ or Pinterest This site uses affiliate links. Read my disclosure policy here.