This is a Sponsored post written by me on behalf of Nanolia Worldwide. All opinions are 100% mine.
If you are like me, then you are probably always on the look out for good cleaning products that will make your life easier. There is a new line of products called Nano-iT, which use nanotechnology to work beneath the surface, and are available at the Safeway family of stores (Vons, Randalls, and Tom Thumb).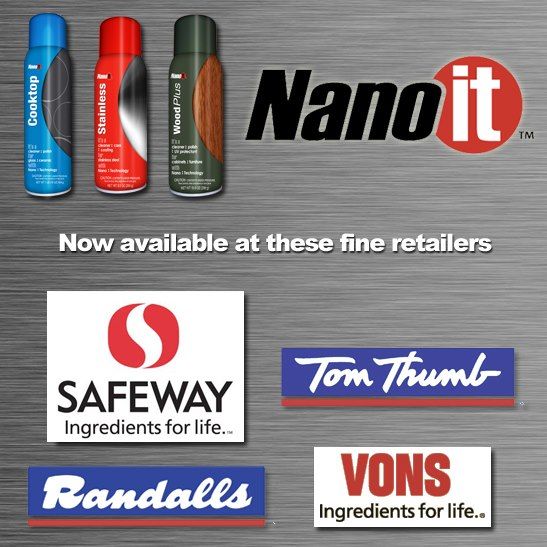 There are 3 product lines that are formulated for specific surfaces in your home:
Nano-iT WoodPlus – for cleaning, polishing, and protecting wood cabinets and furniture. This contains an oil free hydrophobic formulation of waxes and photo oxidation inhibitors for protection against the adverse effects of UV light. It also provides a shiny gloss surface protection.
Nano-iT Stainless Cleaner– for cleaning, polishing and conditioning stainless steel without any streaking. The oil-based formula leaves a micro-thin protective layer and resists fingerprints and smudges – I'm looking forward to using this one on our stainless-steel refrigerator, which constantly gets little fingerprints on it. I also like that it will help make the stainless steel surfaces shine like new. This can be used on copper, chrome, aluminum, fiberglass, kitchen appliances, outdoor grills, automotive trim or bathroom fixtures.
Nano-iT CookTop– an all-in-one cooktop cleaner and protector. This is bio-degradable and environmental friendly, while removing heavy grease without scrubbing or scratching the glass or ceramic surfaces.
Good news is there is a coupon that can be used at  Safeway (or Vons, Randalls, and Tom Thumb) to help us save when we try one or more of these new Nano-iT products. Which one will you be trying first?
************************************************
Like these deals? Don't forget to sign up for the Saving Cents with Sense Newsletter to find deals, coupons, and money saving tips in your mailbox each day. You can also follow on Facebook, Twitter, Google+ or Pinterest This site uses affiliate links. Read my disclosure policy here.