This is a Sponsored post written by me on behalf of White Cloud. All opinions are 100% mine.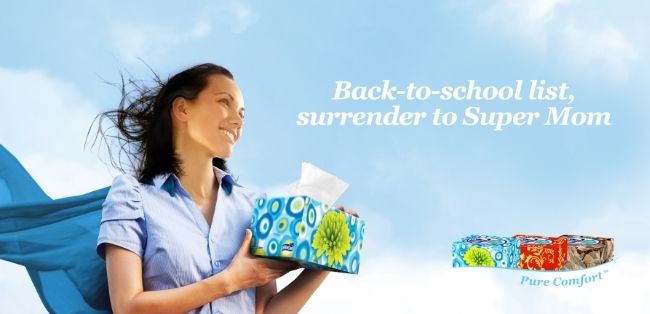 Are you ready for back to school season yet? I know it is only July – but it is here. There are sales at many stores and I already received my son's back to school list for his class so I'm ready to start shopping! How about you?
Believe it or not, the National Retail Federation found that parents spent almost $700 on back to school shopping last year! That is crazy!  I know that back to school shopping can be overwhelming between all the new supplies, backpacks, clothes, shoes and more – but the truth is that it doesn't have to be! Take a few easy steps to help yourself stay sane and save money this school season.
Easy Tips to Save on Back to School Shopping:
1. Make a list of the items you need.
2. Reuse what you can. Check out what you have left from last year. Backpacks, lunch boxes, calculators, scissors, etc can all be reused.
3. Shop early, but don't buy everything at once. Many of the retail stores are already having amazing sales for back to school. You'll be able to find many school supplies for a dollar or less (sometimes just pennies!). Each week there are new sales, so you are bound to find everything on your shopping list!
4. Stock up on low prices and sales so you have enough to last all year. You will find that many items have such good prices now and you don't want to have to spend more later, so buy a few extras if the price is right (examples include pencils, paper, erasers, scissors, glue sticks, etc). You can also look for bulk products that are cheaper to buy in a multipack that each individually. For example, check out the White Cloud Facial Tissue multipacks – not only will your kids need these all year long, if you have extras, you can always donate to the teacher/school.
5. Use coupons! You will maximize your savings power when you use coupons with low prices and sales. To help you save on your favorite White Cloud products, you can find a $.75/1 coupon in this Sunday's paper (7/28). Not sure where to find White Cloud? Check out the White Cloud Store Locator. You may also want to connect with them on the White Cloud Facebook Page or White Cloud Twitter Page or White Cloud Pinterest Page.
And don't forget to use the Coupon Database for your other coupon needs.
Don't let back to school season overwhelm you – become your own "Super Mom" and save more this season!
************************************************
Like these deals? Don't forget to sign up for the Saving Cents with Sense Newsletter to find deals, coupons, and money saving tips in your mailbox each day. You can also follow on Facebook, Twitter, Google+ or Pinterest This site uses affiliate links. Read my disclosure policy here.