This post brought to you by Walmart. All opinions are 100% mine.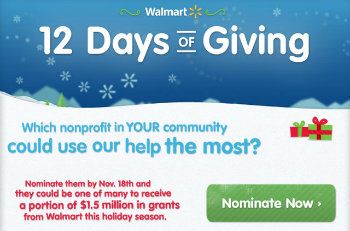 I love hearing about how companies give back and here is one where we can get involved! Walmart will be giving a total of $1.5 million in grants to local communities across the country to help provide basic needs like food, diapers, clothes, baby formula, and other items that will help those in need this winter. The part where we come in, is by voicing which nonprofits we think should get the grants.
Between now and November 18, Americans can nominate the nonprofits they want to win via Facebook. On December 10, Walmart will start the "12 Days of Giving," by announcing funding to the winning nonprofits that were nominated on Facebook. So, with a few days left, make sure you head over to vote for your favorite nonprofit.
How to Nominate:
The nomination process is simple. Just visit the Walmart Facebook page and click the Live Better application (tab). Then click the green "Nominate Now" button.
You'll want to have some information ready to fill out the form:
Nonprofit name
Nonprofit contact info
Nonprofit website
Photo (optional)
You'll also need to tell why you are nominating the nonprofit in 200 words or less. Is there a local food bank, animal shelter, senior center, or local service that can use a grant to help them better the community? I choose to nominate a local food bank that I have been donating to for several years. I truly believe in what they are doing and how they are helping the hungry in my city.
I'm sure you have an organization that you would like to see win. Head over to get your nomination in – and hurry because all nominations need to be in by 11/18/12. Then come back here and let me know who you nominated – I'd love to hear about it!
************************************************
Like these deals? Don't forget to sign up for the Saving Cents with Sense Newsletter to find deals, coupons, and money saving tips in your mailbox each day. You can also follow on Facebook, Twitter, Google+ or Pinterest This site uses affiliate links. Read my disclosure policy here.