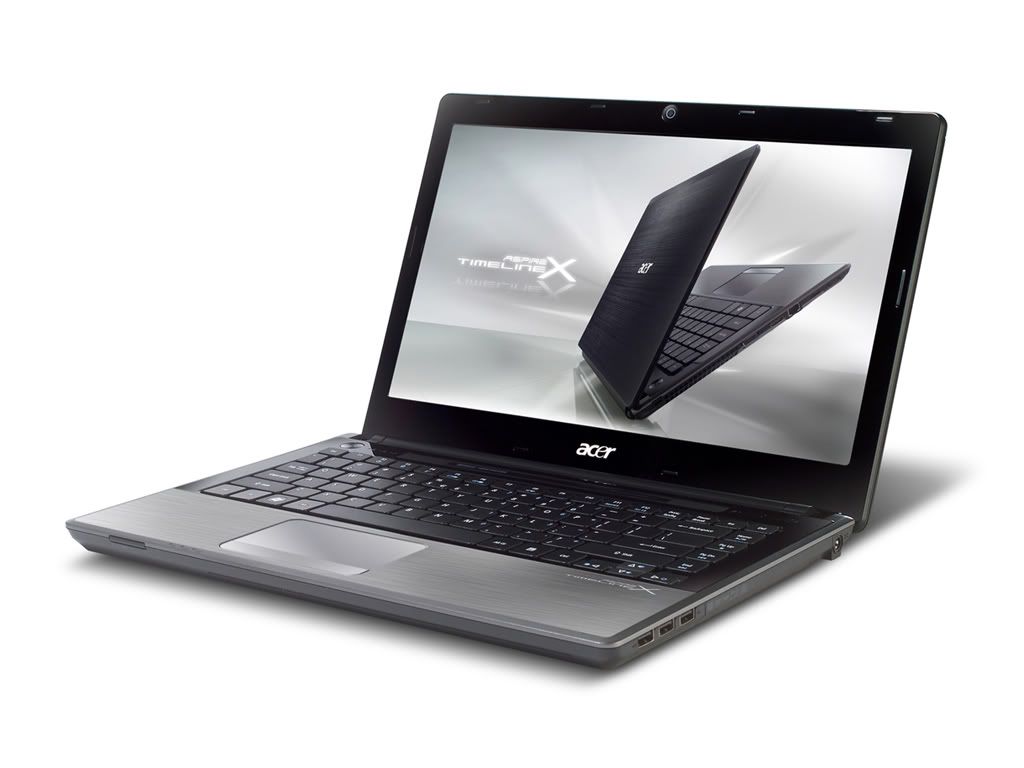 We are starting the 2nd day of the Back to School Giveaway Bash with a bang! I know that you'll all LOVE this giveaway as much as I do from Intel because who doesn't want a Brand-New-Incredible-Laptop!
I am extremely excited about the Acer Aspire TimelineX AS4820T-3697 14-Inch Laptop (Aluminum)
(list price $849.99) because this is a quality product that will be perfect for students (or anyone!) needing an efficient computer.
Did you know that Intel makes the processors in 80% of the world's PCs?
If you are planning to buy a computer, there are some certain things you should know. And the first question you should ask is "What am I going to do with it?" Once you have that answer, you can take a look at your budget, and decide what computer will be the best possible product within your price range.
So, why is the processor important? Simple- it is like the "brain" of the PC. Research shows that performance (or lack of) is the number one challenge for PC users. The good news? The Intel® Core™ processors can help tackle that dreaded hourglass. Intel works closely with software, hardware and application companies (think itunes, Microsoft etc.) to make sure that the processor and the hardware/software offer the best combined experience.

Tell Me More About the Intel Processors
The latest processors are the Intel Core i3, i5 and i7.  It's like buying a BMW – the 3, 5 and 7 series.  You know that 3 is always entry level, 5 is solid and 7 is the best/supreme.  It's the same with the processor and can act as a guide in your buying process. Students are doing lots of multi-tasking, and the laptop needs to be their entertainment and work center all-in-one. For the majority of today's students Intel recommends the Corei5 (which is in the Acer in this giveaway!).
The Core i5 powered laptop meets the needs of most of today's students because they:
1) require mobility and great battery life (they are moving around the campus, at home, the library etc.);
2) they need performance to multitask without getting the dreaded hourglass (taking notes, listening to music, IM'ing friends, watching video/TV etc.; and
3) they need "power" for things like video and photo editing
This is a "dual core" computer or like having two brains in one.  One brain can focus on one task and the other brain can focus on another task – all at the same time. This is important for multi-tasking (or doing many things at once on your computer). The PC is "smart" and can "power up" when you need performance (like editing) and can "power down" when you don't need it (i.e. you are just doing email).  When it powers down, it saves energy which equals longer battery life.
I don't know about all of you – but if I had 2 brains, I could accomplish MUCH more in my day!
I absolutely LOVE this laptop – it allows me to get everything I need done, plus it was perfect for traveling to NYC for Blogher and I've been using it on the nights that I teach. So, are you as excited as I am now? And now for the best part….
WIN IT!
Thanks to Intel, 1 lucky reader will win a Acer Aspire TimelineX 14-Inch Laptop!
1) Leave me a comment sharing how you could benefit with an Intel Core processor.
EXTRA ENTRIES (You can do one or ALL of the following):
2) Subscribe to Saving Cents with Sense in a Reader or Email. Once you confirm your subscription, come back here and leave me a comment. If you are already a subscriber (thank you!), just leave me a comment!
3) Join the Saving Cents with Sense community on Facebook and share the giveaway with friends: "Stop by @SavingCentswithSense + enter #wingiveaways an Acer Aspire Laptop courtesy of Intel! Enter at http://bit.ly/aL1eNA"
4) Tweet: "I just entered to win a Acer Aspire Laptop courtesy of Intel via @SavingSense  http://bit.ly/aL1eNA #wingiveaways"
Please make sure you leave a comment for each entry! This giveaway ends Monday, August 23, 2010  at 12:00 PM MST. The winner will be chosen using random.org.
And don't forget to enter this same giveaway on these blogs as well:
Balancing Beauty and Bedlam
Bargain Briana
Common Sense With Money
Coupon Cravings
Mommin It Up
Moms Need to Know
Mommy Snacks
Passion for Savings
Southern Savers
Stretching a Buck
*********************************************
Disclosure: In accordance to the FTC Guidelines and WOMMA Code of Ethics, I am disclosing that Intel Corporation has provided me with the Acer TimelineX Series, as well as one for the contest winner. There is no direct or implied obligation on my behalf to write about the product.
************************************************
Like these deals? Don't forget to sign up for the Saving Cents with Sense Newsletter to find deals, coupons, and money saving tips in your mailbox each day. You can also follow on Facebook, Twitter, Google+ or Pinterest This site uses affiliate links. Read my disclosure policy here.